Off the Hook Team and Guide Bios
Mike Copithorne
Mike grew up near the base of Mt Lassen in Northern California outside of Redding. He found himself drawn to fly fishing at the early age of 11. Over the years his love and obsession with fly fishing as well as the friendships it has brought have grown. This drive to fish has led him to travel the globe in search of new fly fishing targets.
He has been a professional athlete, worked in fly fishing retail, been published in fly fishing print, and traveled with friends and clients fly rod in hand over the last 22 years. "I have been truly blessed" he says in "many ways". "I hope everyone feels this fortunate". He aspires to be a man of faith, a good husband and father, and to share his love for fly fishing with others.
Mike is at home on the water whether it is on a coastal Steelhead river, in the jungle or a local farm pond in the Napa Valley. It was this love and enjoyment of fly fishing that led he and Carrie to partner up with life-long friend and fishing partner Dr. Ryan Hawks and his wife Kami in this joint venture called Off the Hook Fly Fishing llc. "Our hope is that in fishing with us memories will be etched, and friendships will be forged that will last a lifetime"
Carrie Copithorne
Carrie grew up in Miami, Florida. Born to John Koger a Miami Sport Club member, fishing was a frequent father-daughter activity on the weekends. Later on in college she again spent time fishing but this time in fresh water in Northern California. Although being a mother takes up much of her time she has been known to pick up a rod and throw a tight loop.
Some of her favorite quarries have been Brook Trout in the Sierra Nevada Mountains, Salmon on coastal rivers, and Bonefish on the warm flats of the Caribbean. Carrie handles the books for Off the Hook and her meticulous attention to detail is greatly appreciated.
Ryan Hawks
Ryan first began fly fishing in college when Mike introduced him to the sport. Soon he was spending every possible moment fishing the waters around Redding, CA. Together, he and Mike were perpetually planning new fishing adventures, from remote high desert lakes to Mexico and the Florida Keys. Soon others were asking to come along, and the idea for Off the Hook was born.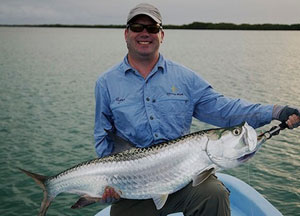 Ryan currently lives with his wife and daughter in the Florida panhandle where he works as a Air Force surgeon. In addition to hosting trips for OTH he spends his free time stalking Redfish in the local marshes and chasing Tarpon on the sandy flats along the Big Bend. He is an avid fly tyer and has developed several innovative tarpon and permit flies. Ryan is a member of the Federation of Fly Fishers and is a member of the International Game Fish Association's Inshore Super Grand Slam Club.
Ryan feels fortunate to have introduced clients to amazing fishing destinations world-wide and forged great friendships in the process.
Kami Hawks
Kami grew up Angwin, California overlooking the Napa Valley. As a kid outings often centered around the outdoors and water. Her passion for travel, knowledge of the in's and out's of international air travel, and her organizational skills make her a huge asset to us at Off the Hook and to you our valued clients. Kami is the holder of several women's fly fishing light tackle records. She is a good fly fisher when she can be pried away from her real job of being a wife and mother for a few hours.


She has an uncanny ability to find good value in air travel. Giver her your travel parameters and sit back and watch her work her magic!
Joshua Schwartz
Since Joshua was a little boy he was fascinated with fishing. As a child he used to spend his summers exploring the local ponds of his neighborhood in Pennsylvania. Catching Bluegill, Sunnies, and Smallies using jigs and bait became an obsession. When visiting his Grandmother on Long island she knew she could entertain him with fishing for flounder off a local pier. As he grew older Joshua set his sights on following in his late Grandfathers footsteps as a Chef. Career driven he worked his way through some local restaurants on weekends and after school. After High school Joshua set out to sew his wild oats in Colorado. Winter was occupied with Snowboarding while summer was spent mountain biking and trout fishing. After receiving some pressure from his parents Joshua took the next step in his culinary career by applying to the New England Culinary Institute in Vermont. The next few years were crucial for Joshua's path to becoming a Chef. He worked at some of the finest restaurants in the country starting out at the bottom and diligently working his way up.


It was while waiting for a kitchen build out for a new job that Joshua was permanently introduced to Fly Fishing. Joshua accepted an invite to fish Hat Creek and the Pitt River here in Northern California. He was so taken with the experience that he purchased his first fly outfit on the ride home from The Fly Shop in Redding...and the rest as they say is history. He has been chucking bugs ever since!
Currently Joshua lives in Windsor, California and holds the position of Executive Winery Chef for Del Dotto Vineyards. When not presenting food to guests he busies himself prenting flies to fish. He is a knowledgeable fly fishing guide and his passion for food and wine is rivaled only by his voracious appetite for chasing Coastal Steelhead and salt water species like Tarpon and Permit. Josh is Orvis endorsed, has guided Off the Hook clients for the last few years and is one of our international trip Hosts. You will thoroughly enjoy, and never forget a day spent on the water with Joshua Schwartz.
Jordan Romney
Jordan Romney grew up fishing the rivers and lakes of Northern California. While attending college at California State University Chico he spent as much time waist deep in rivers as he did in the class room. After college he moved to North Lake Tahoe to challenge himself on the beautiful streams and lakes the Sierra's had to offer. In 2009 he decided to turn his passion into a career. He graduated from the premier guide school in the West at the Clearwater Lodge in 2010. Since graduating he has been guiding several different waters in Northern California, and is one of the top casting instructors for the Resort at Squaw Creek's fly fishing school.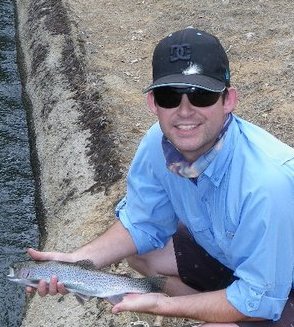 He is a patient and knowledgeable instructor and guide. Jordan grew up just minutes from the Putah Creek in the small town of Winters. Putah Creek is one of the more challenging technical fisheries in the state however Jordan has an uncanny knack for getting his clients hooked up when no one else is catching fish. His future plan is to travel to far off destinations in pursuit of elusive fish on the fly and to someday produce a movie about his adventures. On top of guiding he has been most helpful in assisting us with Youtube, Facebook and blog efforts. Thank you Jordan!
Brett Wedeking(the Fishing Ninja)
Brett Wedeking has been a welcome addition to our team at Off the Hook. He came to Northern California from the Pacific North West. He has worked in fly fishing retail, guided, taught fly tying, been a fly fishing trip host, freelance writer, and a lover of all things fly fishing! Hi wit and writing style make him a fun read, and his passion for fly fishing is evident on the phone, in print or on the water.
Fresh Water
Ready to book your fishing adventure?
Contact Us
(877)CATCH77
(707) 287-2939
Blogs