Belize 2011--Epic
Submitted by Ryan Hawks on September 27, 2011
Off The Hook's summer 2011 trip to Belize aboard the RisingTide had all the elements of an epic—mythical creatures, superstitions, friendship, feasting, tall tales over strong drink, triumphs, tragedies and battling against the odds and the elements.
This year's cast consisted of Bill Streitz, Torben Dam and Len Anderson of the Panhandle Fly Club in Fort Walton Beach, Florida, Bobby Clay hailing from Georgia, mothership veteran Frank Jackson of California, and myself as host.
Our nemesis throughout the trip was an unseasonable low pressure system that stalled over the area for weeks and brought clouds, rain and constant winds. The fish did not seem any happier with the weather than the anglers, making themselves scarce sometimes and playing hard to get at others.


Fortunately, the group was up for the challenge, stuck it out and reaped the rewards: three permit caught, six tarpon jumped and three landed (18, 75 and 100 pounds), as well as multiple bonefish, and a supporting cast of barracuda, Horse-eye jacks, snapper, boxfish and houndfish.


We fished hard during the day and late into the evenings before retreating to the mothership for cold drinks and Velda's culinary masterpieces. We regaled each other with stories of heartbreak such as Bobby's 100 pound tarpon that arose like a leviathan out of the deep but landed squarely on his leader, breaking it at the butt section, Lenny's first-ever bonefish breaking him off around a mangrove sprout on the aptly-titled 'Flat of Despair', breaking an 11 weight rod while landing an adult tarpon and of course the usual menagerie of errant casts, spooked fish, casting too short into the wind and fish that simply wouldn't eat.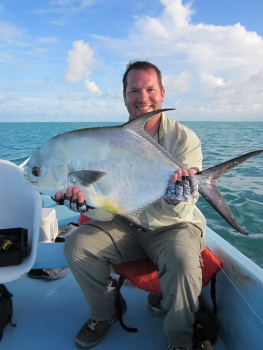 We also savored each victory, large or small—a thirty pound tarpon that ate a permit crab on 16 pound tippet, flies hand-tied with secret materials and incantations that caught fish, wading in pursuit of a tailing permit on the reef, Bill's first-ever Cubera snapper, and Torbin's stalking and catching a surprisingly hard-fighting boxfish. Of course, we also laughed over humorous moments such as guide Noel throwing the anchor over the side of the panga without remembering to tie the other end off and having to dive in after it.

Yes, it was an epic trip and we look forward to doing it again next year on the pristine flats of Belize. Join us on our next mothership trip March 3-11, 2012 and forge some legends of your own.
-rh
Salt Water
Fresh Water
Ready to book your fishing adventure?
Contact Us
(530)242-4122 Office
(707)287-2939 Cell
Ryan's Blog
Ryan Hawks - Salt water and travel blog
Blogs