Brownlining - Fly fishing in Urban Napa for Striper
Submitted by Brett Wedeking on May 16, 2012
Monday marked my first California brownlining experience. I fished the Napa River with Mike and his boy Joshua, who kept us entertained the whole time.
For those unfamiliar with brownlining let me explain. Normally when you're pouring over maps trying to figure out how to access a stream you're following the little blue lines on said map. And likely that river is fairly blue. Brownlining however is just what is says. Rivers whose lines run brown instead of blue. Usually running through an urban area visibility is limited to a foot or two. Mud, industrial pollutants, lawn chemicals, golf course runoff are all responsible for this. Tires, empty Thunderbird bottles, hazardous waste containers, broken washing machines, the ubiquitous plastic bag and crazy hobos yelling about their favorite Harry Potter character are standard sights. Many fly anglers look at brownlining with the utmost contempt since Carp are often the target in such fisheries since trout are a little too fragile. And the resilient striper in the Napa. That's good for them. Let them battle each other for a 50' stretch of water on Hat Creek. Carp and stripers are just like dragging in a boot after they're hooked anyway. Oh, wait...
Anyway, on this trip we rowed our pontoons around downtown Napa trolling and casting and stripping in the holes. We hooked a few small fish on the rising tides but later as we began to cruise back down river with the outgoing we started whackin' 'em pretty good on chartreuse/white and olive/white clousers. Nothing too big but we definitely hooked some fish that corked an 8-weight pretty good. All in all a great day brownlining as evidenced by the photos below.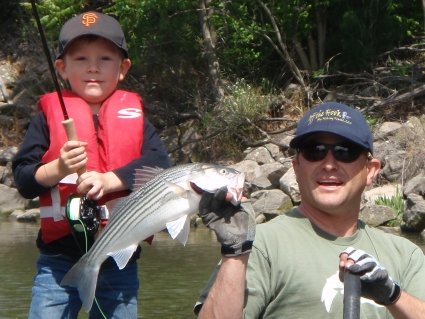 Salt Water
Brett Wedeking
Blogs