Excellent fly fishing for Steelhead continues on California's North Coast
Submitted by Josh Schwartz on March 2, 2012
The past week on California's north coast was another good one for Steelhead. The water was lower and clearer than I would have liked it. Just like any steelhead river.. The lower it gets the more difficult the fishing tends to be. Word must have been out because there were lots of boats as well. Despite the traffic we were averaging 8 hook-ups a day.
There was an even mix of fresh fish and kelts. The fish were a little smaller than last week .. Good thing is that meant more in the net :) Rain showed up on Tuesday and continued through Thursday afternoon. Most rivers blew out and are already dropping back in.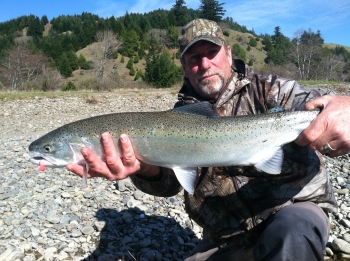 Wild Steel!!!
This could be the last hurrah ....!!!!!
Let's fish,
Joshua
(877)228-2477 (707)287-2939
Salt Water
Josh Schwartz's blog
Blogs