Total Eclipse of the Truckee
Submitted by Brett Wedeking on May 23, 2012
Fished the Truckee last Sunday & Monday. Sunday was the annular eclipse visible from that area. I guess it was an excuse for people to stand in the middle of the street and use three pairs of sunglasses to stare at the sun (because we all know that totally protects your eyes. Morons.) making me drive around them.
Anyway, the Truckee fished pretty well. All nymphs and streamers for me. Though I saw a few March Browns, BWO's and caddis around it wasn't enough to get excited about. I hooked a lot of fish on olive crawdads, brown rubberlegs stones, CDC soft hackle mayflies and caddis pupae. My landing success wasn't the best but I'll blame it on the high, swift flows and hard fighting fish. Because we all know I'm an expert fly angler, um, yeeeeaaaah, or total idiot...
Anyway, they started releasing water out of Boca so the lower river is a little colored and high but I still managed to hook some nice fish down there and the Glenshire stretch was great too with more manageable flows. I fished the Little Truckee for a few hours on Monday morning and got roughed up. Don't know what was up but I went back to the big river and started wailing again. All in all a great trip.
Evidence of a good time below. The fish in the third photo was so fat and soft it looks like I'm squeezing the life out of her but her fatness is just actually engulfing my hand.
Brett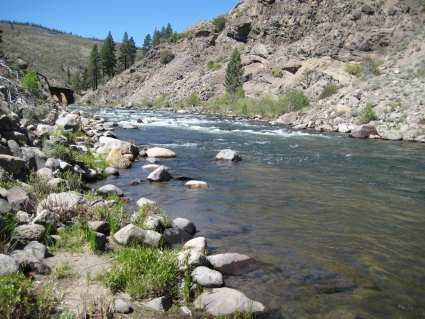 Salt Water
Fresh Water
Brett Wedeking
Blogs