Trinity River is low but fishing is steady
Submitted by Josh Schwartz on December 8, 2011
I have been up on the Trinity River the last three weeks with fly fishing clients targeting Steelhead. I wanted to give everyone an update on conditions.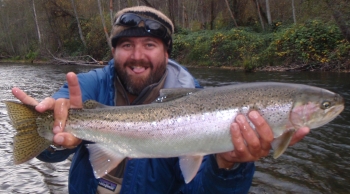 The water is low(300cfs) and clear. Client have been getting 5 grabs most days and landing 2 to 3 fish. Due to the low water it is imperative to start early in the day. Air temps have been in the 20's so dressing warm is a must.
Steelhead are spread out above the Canyon in many of the holes. Fish are not keying on eggs much, but Stones and mayfly nymph patters have been producing. I have been accessing the river through a couple of private spots and getting ahead of the crowds and it has been paying off. We have gotten some nice fish to 10 lbs this week with about a quarter of them being wild fish.
When the rain begins look for a good group of fish to push up. Usually my clients have some good days in late December and January before the California Coastal streams begin to get hot for Steelies.
I still have a few days left available in Jan and February. Give us a call if you want in!
Josh
Salt Water
Fresh Water
Josh Schwartz's blog
Blogs